Spirit of the Earth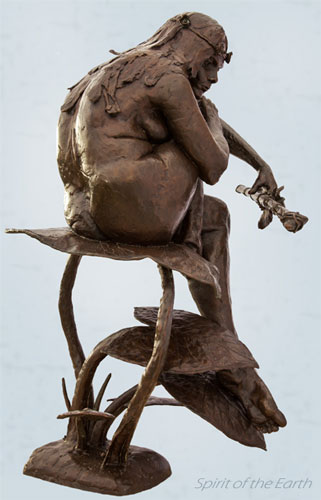 Bronze   38" x 18" x 23"  Limited Edition of 8
---
Spirit of the Earth flowed out of me with an elegance and ease that was truly magical. Earth itself is very grounding to me. I feel an inner peace and joy when I interact with the divine beauty of nature. My love of my hands working in clay is intoxicating in its sensuality. Earth, with all her beauty, brings me such pleasure and joy; feelings of unity and oneness.
Spirit of the Earth came into existence at a time when I was dealing with the grief and profound sense of loss over the death of my brother. It was out of this love for my brother, combined with my love of clay and earth's nature, that I created what I consider to be my one of my most beautiful pieces, certainly at that point. Working on this sculpture actually pulled the sadness out of me. It was an enlightening experience. I reached the realization that I could be healed thru this creative process. Sure there would be further grieving but the creative process of Earth had healed the darkest places of my broken heart. When I am feeling really hurt or disconnected, it is thru sculpting that I reconnect to my source – that divine source that enables me to garner healing and experience love's beauty. Sculpting with clay nurtures my soul and feeds my spirit. Spirit of the Earth gave me this insight.
Lost in this sensuality, Spirit of the Earth was born spiraling upwards with a new found confidence, courage and commitment to her connection with the divine. She also knows that this connection will take her to new and unimaginable places of beauty, new heights.