Hope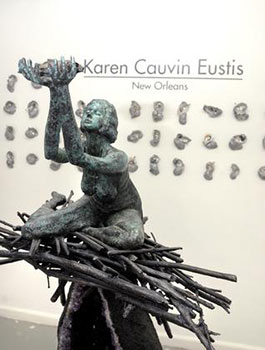 Bronze and Geode … 15″ x 13″ x 38″ …   Limited edition of 8
---
It was while sculpting Hope that that BP's oil rig exploded killing 11 workers, and oil began gushing out unabated from the bottom of the ocean. And as this gooey mess began attacking the shorelines killing fish, sea turtles and pelicans, I felt a deep sense of despair and hopelessness. It was then I realized something was lacking in my own hope.
The more Hope took shape and form, the more I was able to in a sense  reshape my own thoughts and feelings – to lift up to a higher place within myself. This sculpture I named Hope morphed and became this eagle being. She has the grace, beauty and power of the eagle, combined with the human's god given ability to choose. She is willing and able to look beyond the current muck and mire, to a vision of the future that is coated with love and beauty instead of oil. Possibilities filled with hope.
This sculpture Hope is an eagle priestess whose nest is perched high atop a cliff, and within this cliff is a powerful and mystical crystal cave of amethyst. This magical cave will help heal the pains of the past, and amplify our highest dreams.
This eagle priestess of Hope is making an offering to the Divine – and to the divine that dwells within each of us. This divine offering, in the form of a fish, symbolizes the asking for forgiveness of our recklessness disregard for nature and her beauty. And most importantly she is asking for the quick and perhaps miraculous recovery for all of the creatures in and around the sea – as well as the sea itself.